7 Ways Children with Autism Benefit from ABA Therapy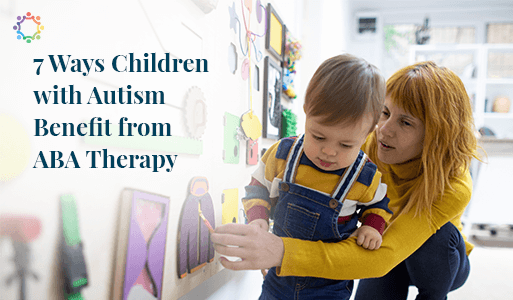 As children with autism learn and grow in their environment, they have the opportunity to develop new behaviors. With Applied Behavior Analysis (ABA) therapy, children with autism can engage in a personalized program to enhance independence, social skills, and communication. With time and dedication, your child can feel more confident and in control of their behaviors.
What Is ABA Therapy?
In the 1960s, Ivar Lovaas and Robert Koegel developed the first iteration of ABA therapy. After more than 60 years of growth, ABA therapy has become a mainstay of behavioral treatment for children with Autism Spectrum Disorder (ASD). When children begin an ABA program, they engage in a wide range of activities to help them learn new skills and habits through practice.
Common goals in ABA therapy include reducing maladaptive behaviors, constructing replacement skills, and engaging in self-help. Children spend about 40 hours per week with a licensed therapist and address new ways to learn behaviors. Parents also continue these lessons at home to create a better environment for the entire family.
7 Ways a Child With Autism Can Benefit From ABA Therapy
As a parent, you want the best treatment option for your child. ABA therapy is an effective tool for children with autism because it teaches positive reinforcement of well-adjusted behaviors. With a dedicated team to create a personalized program, you can watch your child become a more self-reliant, social, and satisfied individual.
At Kids SPOT, we offer one-on-one care that addresses your child's unique learning needs and provides the following benefits.
1. Specialized Programs
Every child in an ABA program begins with an initial assessment of their current behaviors and potential needs. As your child progresses, we perform a milestone assessment every six months to determine the next steps.
2. Day-to-Day Flexibility
Our board-certified behavior analysts and therapists spend almost 40 hours a week with your child, and every day may look a little different. We engage in real-time behavioral applications so your child can go about a typical day. Children can feel more comfortable treating their therapists like a friend that tags along rather than a doctor observing them.
3. Play-Based Learning
We offer a play-based behavior therapy model through directed assessments and learning objectives. When children play, they find new ways to express themselves and their feelings. Our therapists use playtime observations to introduce new behaviors and minimize challenges.
4. Social Skill Building
Social skills can help children feel more at home in their community. ABA therapy helps your kid develop social skills through positive practice. Whether we're reinforcing eye contact or teaching how to share, social skills are critical for the ABA method.
5. Parental Interaction
Parents are a big part of ABA therapy. When children are encouraged to practice their new skills with the entire family, they can feel more comfortable learning and growing. We encourage parents to get involved in improving two-way communication.
6. Increased Independence
Developing key life skills is one of our main goals in ABA therapy. Your child can learn how to be more resourceful and communicative, so they feel confident entering the world of adulthood.
7. Groundwork for Success
Ultimately, ABA therapy is an effective way for children with autism to create a basis for new skills and lessons. Your child can feel more comfortable in their body, home, and community with treatment designed to help them grow.
Contact Us to Learn More About Applied Behavior Analysis Therapy
At Orlando Children's Therapy, a part of our family of companies here at Kids SPOT, we insist on compassionate and comprehensive care. Our medical professionals offer ABA treatment programs built to support your child's strengths and minimize their less productive behaviors.
For in-home and on-site behavioral therapy, schedule an evaluation with our team. Call us to learn more!