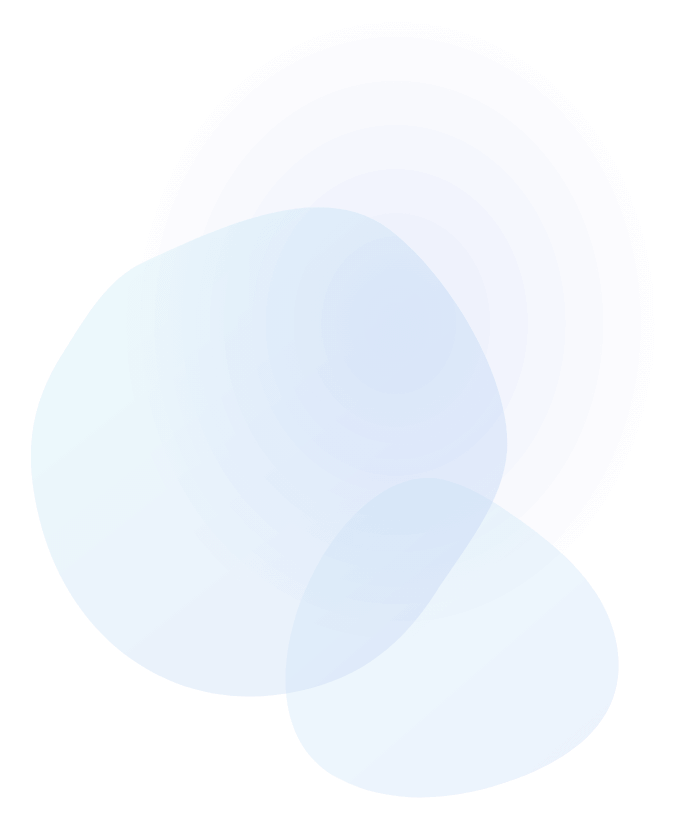 Children's Physical Therapy Services
Our Physical Therapists (PTs) here at Kids SPOT provide therapeutic services which can help in restoring function, relieving pain, improving mobility and balance and coordination, and preventing and limiting permanent physical disabilities of children suffering from an injury or disease. It is their responsibility to promote, maintain, and restore the overall health and fitness.
Kids SPOT treats a range of patients, from newborns to teenagers, for a wide variety of reasons — including nerve, spine, brain or genetic disorders. We also provide treatment for sports-related injuries and bone or muscle issues. Our PTs help children improve in areas like toe walking, developmental delays and gross motor function.
Getting Your Child Started with Physical Therapy
Therapists will examine the child's medical history and then test and measure their strength, range of motion, balance and coordination, posture, muscle performance, respiration, and motor function. They will also determine the patient's ability to be independent and reintegrate into the community after injury or illness.
As such, after the assessment, our physical therapist will develop a treatment plan describing a treatment strategy, its purpose, and its anticipated outcome. They will also take into consideration the health requirements and personal needs of the patient to further craft a care plan that best suits them.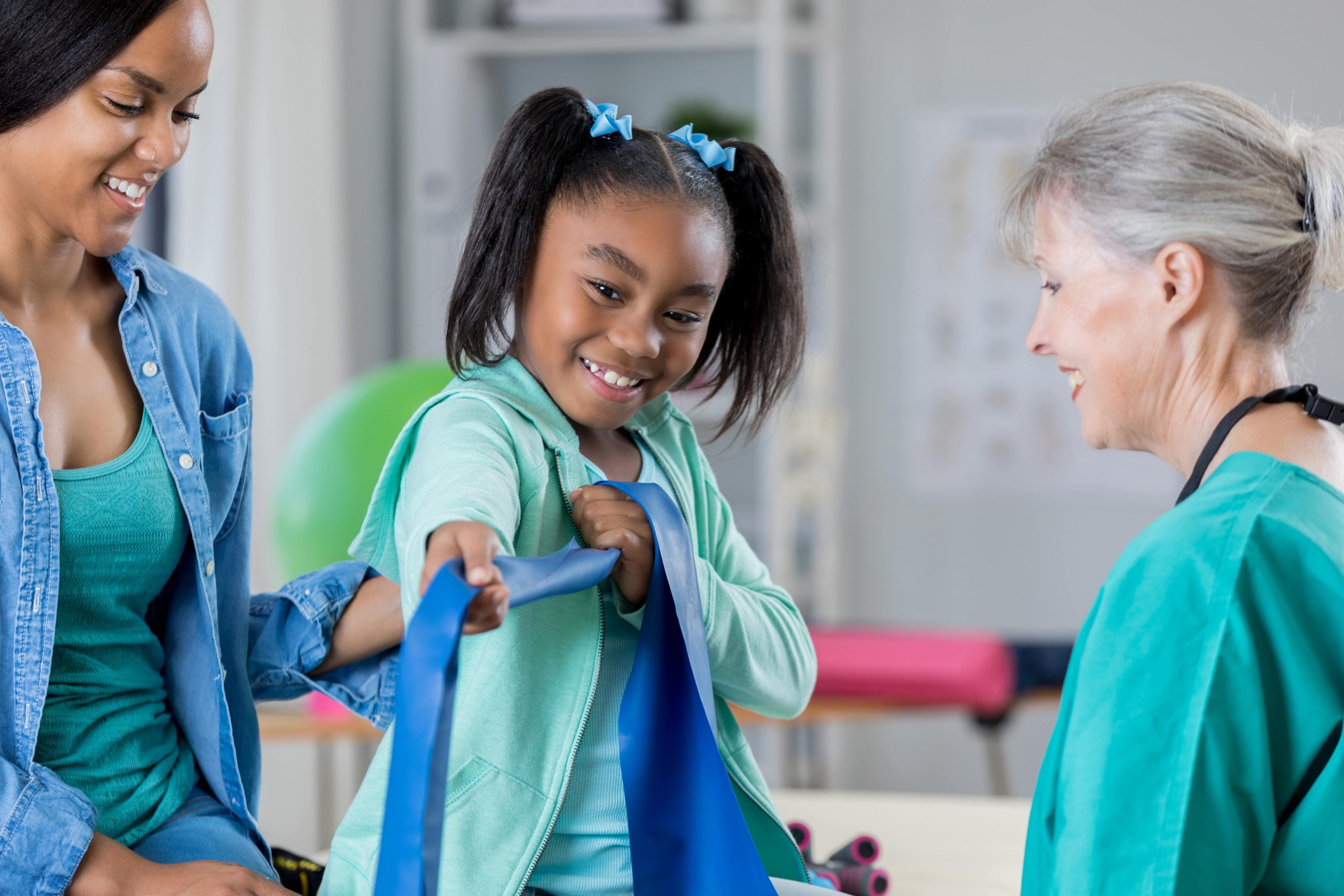 How Physical Therapy Services Work
Physical therapists will incorporate age-appropriate exercises which encourage children to use their own muscles and increase their flexibility and range of motion before finally advancing to other exercises that improve strength, balance, coordination, and endurance. The goal of pediatric physical therapy is to improve how a child functions at school and at home.
Some of the duties of our physical therapists also include teaching children how to use assistive and adaptive devices, such as crutches, prostheses, and wheelchairs. As treatment continues, our physical therapists will document the patient's progress, conduct periodic examinations, and modify treatments when necessary. Besides tracking the patient's progress, such documentation identifies areas requiring more or less attention.
Benefits of Pediatric Physical Therapy
Physical therapy for children and toddlers offers an opportunity for specialized healing after an injury, while pediatric orthopedic physical therapy exercises can reduce growing pains. 
Physical therapy sessions can help your child improve their skills in the following areas:
Tone:

 Tone refers to the amount of tension a muscle has at rest. Normal tone is low enough to allow freedom of movement yet high enough to resist the effects of gravity on movement and posture. 

Posture:

 Body posture is defined by identifying the body part being positioned and its positioning. 

Reflexes: 

A reflex refers to a muscle's instant response to stimulation. These movements are involuntary, with certain sensations producing specific muscle responses. 

Balance: 

Balance is the ability to maintain equilibrium, or an individual's ability to maintain their line of gravity within their base of support (BOS).

Strength:

 Muscle strength refers to what your muscles do when they're not at rest. A muscle's ability to create force and contract in response to resistance determines its strength. 

Range of motion (ROM):

 ROM measures movement around a specific body part or joint. Joints must have good flexibility to have full ROM. Range of motion involves both the direction and distance in which a joint can move. 
Hear from Kids SPOT Families
I highly recommend this children's rehab center. Grace, is the best therapist a child could ever have! Kim, at the front desk is the sweetest most helpful person ever!
Great place! My baby sees Kevin and he's such a great therapist. And everyone else is so professional and very kind-hearted. I surely do recommend them hands down!
How Do I Know if Physical Therapy Is Right for My Child?
Your child may benefit from physical therapy if:
They are not able to perform at their prior level of function due to an injury.

Gross motor tasks cause them pain or discomfort.

They fall or frequently trip while walking.

They have difficulties keeping up with their peers during play.

They are not able to perform tasks such as skipping, jumping or hopping at the same level as their peers. 

They walk in an atypical manner or on the balls of their feet.

They have a strong preference for using one side of their body or turning their head to one side.

They are not walking, standing, sitting, rolling or meeting other developmental milestones during the first year of life. 
During an initial visit, a PT will observe how well your child can complete tasks appropriate for their age to see if there is a delay. Activities monitored include walking and standing as well as functions involving strength and development. If the therapist perceives a delay, they will work closely with your child to craft a personalized treatment plan based on the degree and potential cause of the delay.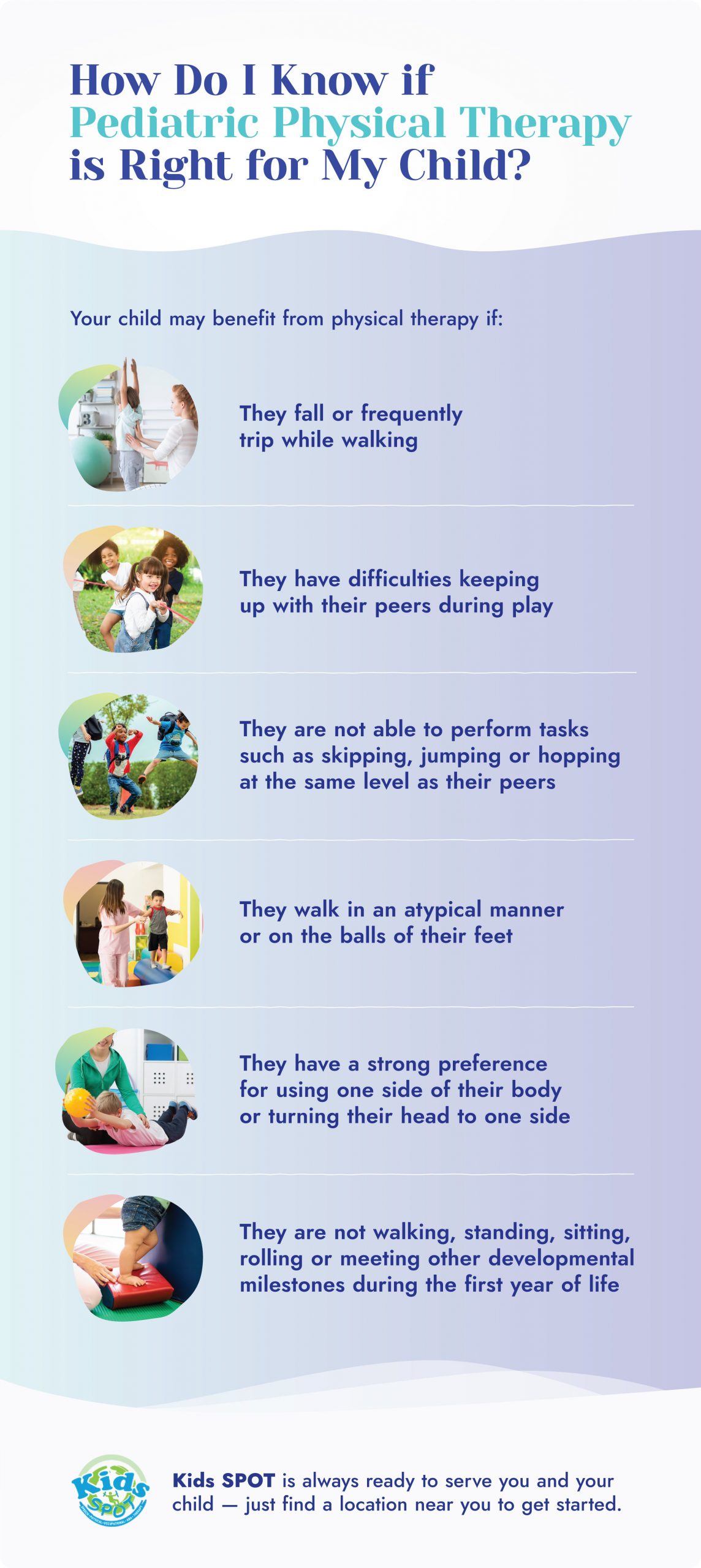 Overview of Kids SPOT Services
Find a Physical Therapist for Your Child Today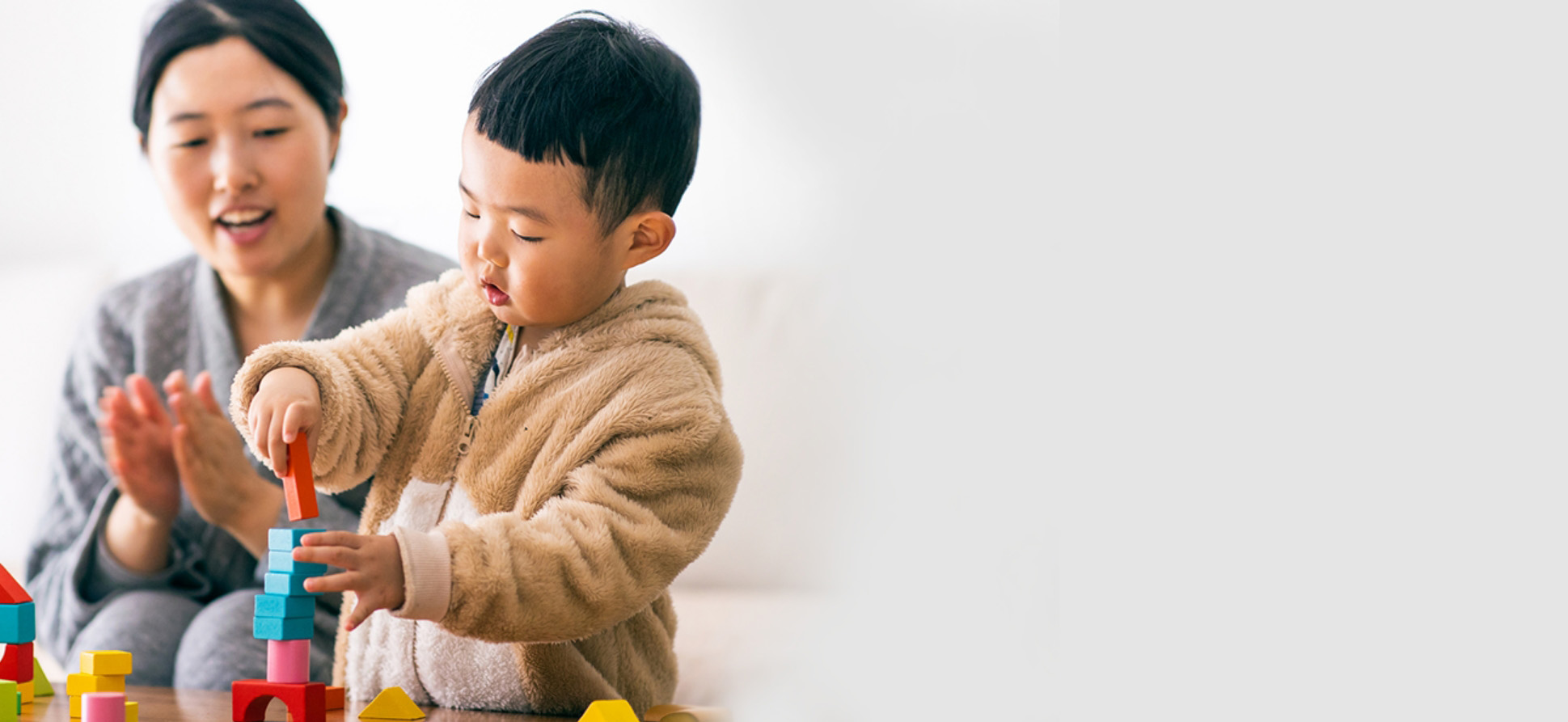 Get in Touch with Us Today
Have Additional Questions Before Getting Started?
Check out our Frequently Asked Questions to learn more.