Guide to Becoming an Occupational Therapist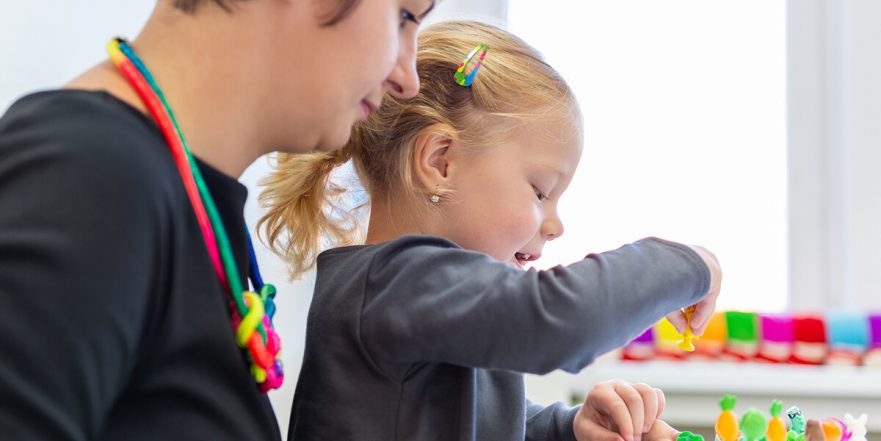 A career in occupational therapy can be enriching as you help patients with injuries or disabilities re-engage in meaningful, everyday activities. Occupational therapists are creative, holistic thinkers and problem-solvers who enjoy a flexible and stable career path.
If you're hoping to become an occupational therapist, you'll need to complete a few education and licensure requirements. Continue reading to learn the steps you need to get certified and all the benefits of a career in occupational therapy.
What Is Occupational Therapy?
Occupational therapy is a form of rehabilitation that helps people with various cognitive and physical conditions. The career focuses on patient education and developing skills to participate in meaningful everyday activities. OTs are allied health professionals who work alongside nurses, physicians, speech therapists, physical therapists, and many other health practitioners.
Standard settings where occupational therapists work include:
Hospitals
Schools
Skilled nursing facilities
Patients' homes
Pediatrics
Early intervention
Traveling therapy
OTs collaborate with other health providers to deliver holistic care to people who have challenges from debilitating illnesses or injuries. Occupational therapists provide tailored treatment plans for each patient.
While other rehabilitation professionals have training in helping patients regain function, OTs are unique in that they simultaneously address cognition and mental health. They can assist in daily activities like work, leisure time, social interaction, and more.
What Do Occupational Therapists Do?
If you're considering a career in occupational therapy, you'll want to familiarize yourself with the work requirements. Most OTs spend their days working with patients on a specific schedule. You'll get to evaluate and assess your patient's needs and create plans of care, which consist of particular goals for functional recovery.
Overall, an OT is a problem-solver, troubleshooting each patient's challenges to find the correct interventions to address them. Since patients' needs span a broad spectrum, OTs can choose from many treatment approaches and places to work.
Occupational therapists' responsibilities may include the following:
Helping patients discover new ways to perform activities of daily living
Instructing patients to perform tasks without pain
Assisting patients in creating a daily routine
Teaching patients how to use assistive technology
Creating customized solutions for patients to promote independence and healing
How to Become an OT
The education to become an occupational therapist involves earning an undergraduate and graduate degree and then passing the required licensure exams.
1. Complete a Bachelor's Degree
The first step in becoming an occupational therapist is to finish a bachelor's degree in a relevant area like health science, psychology, or biology. If you have a bachelor's degree in an unrelated field, some graduate schools may require you to take specific prerequisite courses before applying.
2. Earn a Graduate Degree
The next step is to complete a graduate degree. The curriculum for occupational therapy may vary among institutions, so it's essential to review the information carefully before applying. Typical coursework in OT programs includes health ethics, medical and social conditions, functional anatomy, research methods, assistive technology, and adult and child patient care.
3. Complete Fieldwork Requirements
As part of your OT degree program, you'll need to complete fieldwork requirements at your academic institution. Fieldwork is vital to your professional success since it allows you to gain hands-on experience and apply what you learned from the classroom to on-the-job scenarios. You might gain fieldwork experience at daycare centers, schools, clinics, homeless shelters, or mental health community centers.
4. Pass the Exam
After completing your graduate degree program, you must pass the National Board of Certification of Occupational Therapy examination to earn a license to practice as an OT in the U.S.
5. Get Your Licensure
After passing the NBCOT exam, getting your occupational therapy license is mandatory. You will also need to pay the license fee for the state or jurisdiction where you wish to practice. Many states also require that you earn continuing education credits every two years to keep your license.
What Skills Do You Need to Be an OT?
You will learn hands-on techniques and treatments while studying to become an occupational therapist. But before you begin work, you should refine specific professional qualities to do your best at the job. These include:
Strong communication skills
Ability to collaborate and work well with others
Creative problem-solving
Empathy for clients and team members
Flexibility and patience
Ability to work well with the public
How Long Does It Take to Become an OT?
It can take around seven years to become an OT — four years getting your bachelor's and two to three years in graduate school, depending on the institution and type of program you choose. You might also spend a month or two studying for and taking the NBCOT exam.
Benefits of Becoming an Occupational Therapist
There are so many reasons to pursue a career in occupational therapy.
Fulfillment
As noted, being an occupational therapist can be gratifying. You get to work with patients who need help and teach them the skills they need to participate in life. The type of work is invaluable, and many OTs form long-lasting relationships with patients and their families.
Stability
Another benefit of becoming an occupational therapist is the ability to find work wherever you go. While you will need a license to practice in new states, it's rare to struggle with your job search.
Flexibility
Occupational therapists also enjoy flexibility in their careers. Many professions make it challenging to switch jobs or advance unless you commit to a full-time schedule. However, OTs might choose to work part-time or as-needed shifts to fit their lifestyles. Many people also go the route of becoming a traveling OT. Keep in mind that it may impact pay and benefits.
Career Advancement
If you become an occupational therapist, you get to appreciate career advancement. You might become a clinic owner or specialize and remain an employee. You can also pursue many non-clinical OT careers.
Many OTs switch settings throughout their careers when they need a change of pace. For instance, it's common to work in demanding environments right out of school — however, many therapists transition to outpatient, pediatrics, or mental health settings after paying off their student loans.
Find Orlando Occupational Therapy Careers at Orlando Children's Therapy
Are you hoping to work with children and help make a difference in their lives? Working with Orlando Children's Therapy, a part of Kids SPOT's family of companies is a great place to start. Our pediatric occupational therapists help children practice different skills, whether that's mobility and coordination or communication. We offer competitive pay, benefits, and a welcoming, collaborative team environment.
To learn more about our positions or apply to be an occupational therapist, contact us here today.