How to Become a Pediatric Developmental Therapist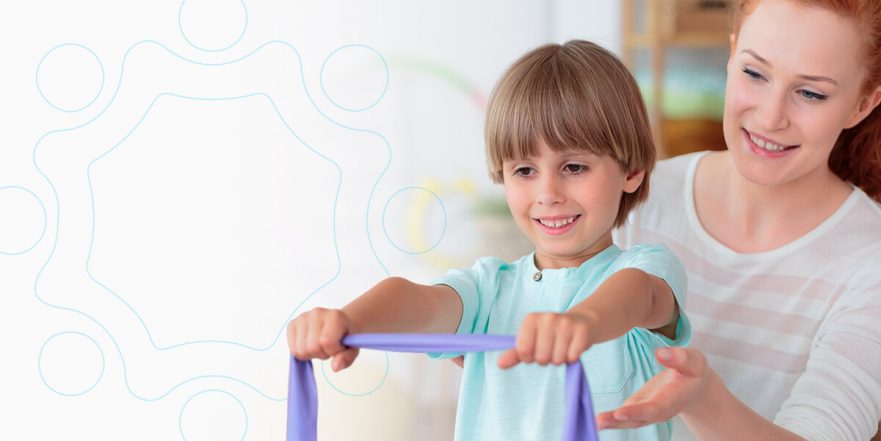 Pediatric therapists play an essential role in children's lives as kids explore new ways to enhance their mobile, speaking or cognitive skills. Pediatric therapists undergo extensive training and schooling to provide quality service to those in need. The benefits of working in various careers in pediatric therapy carry over to the patients as they work to improve each child's quality of life with each session.
Pediatric therapy careers in Orlando range from qualified speech pathologists to skilled occupational and physical therapists. Many pediatric therapists work with others with similar passions or even open their own practice.
If you find yourself asking if you should become a pediatric therapist, consider the skills you have in showing empathy, practicing patience, using effective communication and demonstrating compassion daily. If working with children is your passion, learn about these job opportunities for careers in pediatric therapy.
How to Become a Pediatric Occupational Therapist
Pediatric occupational therapists help children reestablish cognitive and motor skills through physical exercises. If a child finds challenges in completing everyday tasks such as getting dressed, eating or taking a bath, a pediatric occupational therapist can provide new ways to approach these obstacles.
If this career sounds like the right fit for you, explore the following steps to entering the field of occupational therapy.
1. Undergraduate Studies
Pediatric occupational therapists spend several years in school before starting their careers. An undergraduate degree in biology, psychology or health science can help kickstart your knowledge of the field. Students may find that enrolling in courses that cover anatomy and physiology, medical terminology and statistics better prepare them for higher education opportunities.
2. Graduate Studies
After obtaining a bachelor's degree, the next step is to apply to graduate school. A Master's of Occupational Therapy (MOT) program or a Doctor of Occupational Therapy (ODT) program allows students to partake in fieldwork for more hands-on experience. An MOT program can take about two years to complete, whereas ODT programs typically require three years of study. Specific programs vary between institutions.
You can begin making choices regarding your future career during this time. If you are interested in opening up your own practice or working in a leadership role among other occupational therapists, you may find more satisfaction in the ODT program.
3. Obtaining Your License
Once you have graduated with a master's degree in occupational therapy, the final step is to pass the National Board of Certification of Occupational Therapy exam. This process lets you establish your knowledge from coursework and field studies to prove your expertise in occupational therapy. Students typically take anywhere from one to three months or more studying for this exam.
Once you have passed, the board will grant you your license to begin practicing occupational therapy.
How to Become a Pediatric Speech Pathologist
Pediatric speech pathologists work with children to enhance verbal communication skills. Speech disorders can make everyday activities a challenge for kids. Speech pathologists help make specialized plans that include oral exercises to let children practice hard-to-pronounce words and long sentences. An increase in speaking capabilities can help improve the quality of life for children and their families as social interactions become easier to engage.
If speech pathology sounds like the right career path for you, take a look at the following steps to enter this field of work.
1. Undergraduate Studies
Earning your bachelor's degree is the first step to gaining the title of pediatric speech pathologist. Several majors can enhance your knowledge of the field, including English, psychology, communication sciences and disorders, education, language development, and linguistics. Obtaining a degree in any of these majors can provide a background into various approaches to helping children.
2. Graduate Studies
After receiving your bachelor's degree, you can apply to graduate school, where you will enter a Master of Science in Speech-Language Pathology program. This path lets you continue studying relevant coursework and spend time with other speech pathologists in the field.
In this program, you will put your skills into practice with patients in clinical settings. Students typically spend a portion of their degree hours in a classroom to connect with children who may benefit from speech therapy.
3. Clinical Fellowship
Completing this graduate program places you on the path to clinical practice and knowledge application. Graduates must work in the field for a specific number of hours while completing coursework. During this time, students learn the ins and outs of speech therapy practices with various clients and their specific needs.
Over time, you will transition from supervised clinical settings to individual opportunities. You will most likely receive a temporary license during this time to be able to practice with actual patients.
4. Passing the Praxis Exam
Studying for and passing the Praxis exam in Speech-Language Pathology during your clinical fellowship will allow you to reach the final step before entering the speech therapy career. This exam prepares you for working with children in a classroom setting. You can retake the exam as many times as needed to reach a passing grade.
5. Obtaining Your License
After completing the necessary hours to finish your fellowship and receiving a passing Praxis exam score, the final step to becoming a speech therapist is obtaining your license. You will be granted a Certificate of Clinical Competence in Speech-Language Pathology from the American Speech-Language-Hearing Association. The previous steps have prepared you to apply for this license to begin practicing as a pediatric speech pathologist.
How to Become a Pediatric Physical Therapist
Pediatric physical therapists help children enhance their motor skills through hands-on treatment. Whether a child is recovering from an injury or living with a health condition that limits their motion, physical therapists can assess their capabilities and prescribe exercises that increase their range of mobility. They also educate patients and their parents on how to prevent further pain through safe activities.
If physical therapy interests you, familiarize yourself with the education and clinical practices professionals complete before entering the field.
1. Undergraduate Studies
Earning your bachelor's degree is the first step to becoming a pediatric physical therapist. Those working in the field have majored in biology, chemistry, physiology, physics, kinesiology and anatomy. Any related coursework to these studies lets many students explore the physical therapy field.
2. Graduate Studies
After earning a bachelor's degree in a field related to physical therapy, students can apply to graduate school to enroll in a Doctor of Physical Therapy program. The program's first year provides students with coursework in areas covering pathophysiology, anatomy, biomechanics and imaging. The second and final year allows for supervised clinical practice in the field for hands-on learning.
3. Passing the National Physical Therapy Examination
The final step before becoming a licensed physical therapist is to pass the National Physical Therapy Examination. This test puts your knowledge into practice by assessing your basic understanding of the career field and applied exercises that physical therapists use daily.
4. Obtaining Your License
After passing the National Physical Therapy Exam, you can officially obtain your license to begin practicing your skills and knowledge on patients. Requirements for licensure differ by state, so do your research after completing all prerequisites.
4. Obtaining Your License
After passing the National Physical Therapy Exam, you can officially obtain your license to begin practicing your skills and knowledge on patients. Requirements for licensure differ by state, so do your research after completing all prerequisites.
The Benefits of Becoming a Pediatric Therapist
Pediatric therapy provides numerous mental, physical and financial benefits, including:
Job security: Because of the high demand for trained professionals in these fields, all three careers provide stable job security for the future. High salaries ranging from $80,000 to $90,000 each year and flexible hours are rewards for these hardworking individuals.
Diverse work environments: Many professionals benefit from the diverse work environments available, including hospitals, patients' homes or their designated space if they have established their own practice.
Job satisfaction: The most significant benefit of becoming a pediatric therapist is seeing patients' smiles as they overcome challenges and accomplish their goals. Pediatric therapists make a substantial difference in many lives. In each field, practicing professionals view each patient's progress and accomplishments through their own triumphant efforts. Seeing a child in need of assistance and providing them with the care and support they need is the most rewarding aspect of these careers.
Pediatric Therapy at Contact Orlando Children's Therapy
If pediatric therapy is the right career for you, consider exploring Orlando Children's Therapy, a part of our family of companies here at Kid SPOT for job opportunities. Our growing team of qualified occupational therapists and speech pathologists has allowed our facility to become a welcoming environment for children and their families as they seek treatment.
Pediatric practices at Orlando Children's Therapy is a rewarding experience for those just getting started in the career field. We offer speech therapy, physical therapy, occupational therapy, and ABA therapy services to fit your passions as you make your way through the education and clinical practice process.
Contact us today for more information about career opportunities!