What is Pediatric Occupational Therapy?
Pediatric Therapy is any medical treatment designed to help treat conditions in children. Specifically, Pediatric Occupational Therapists (OT) provide therapy for children struggling with sensory issues, attention and fine motor skills, among other challenges.
Pediatric Occupational Therapy utilizes motor control strategies, sensory integration, and therapeutic exercises to assist children. Your child's OT can provide cognitive and perceptual therapy, splinting, and hand and upper extremity therapy if your child has difficulty with visual motor skills and visual perception.
As a parent, you know how rewarding it is to see your child grow, learn, play, and complete school work. Sometimes, however, your child may need assistance learning how to carry out these daily tasks.
At Kids SPOT, we offer occupational therapy services to help children gain the confidence and skills to enhance their fine and gross motor skills. You can rely on our personalized treatment plans and caring staff to help your child reach developmental milestones for lifelong success.
What Is Pediatric Occupational Therapy?
Pediatric occupational therapy helps children develop their visual-motor, sensory-motor, and fine-motor skills to gain greater independence. Occupational therapy can often overlap with other services such as speech and physical therapy. For example, an occupational therapist may help a child gain the skills to complete physical tasks, such as tying their shoes. They might also practice speech-related tasks such as holding a pencil and writing the alphabet.
Occupational therapy is different for every child. After our therapists learn more about your child and their specific needs, we will create a personalized treatment plan. During treatment, we will perform frequent assessments to ensure our program continues to cater to your child's interests and goals.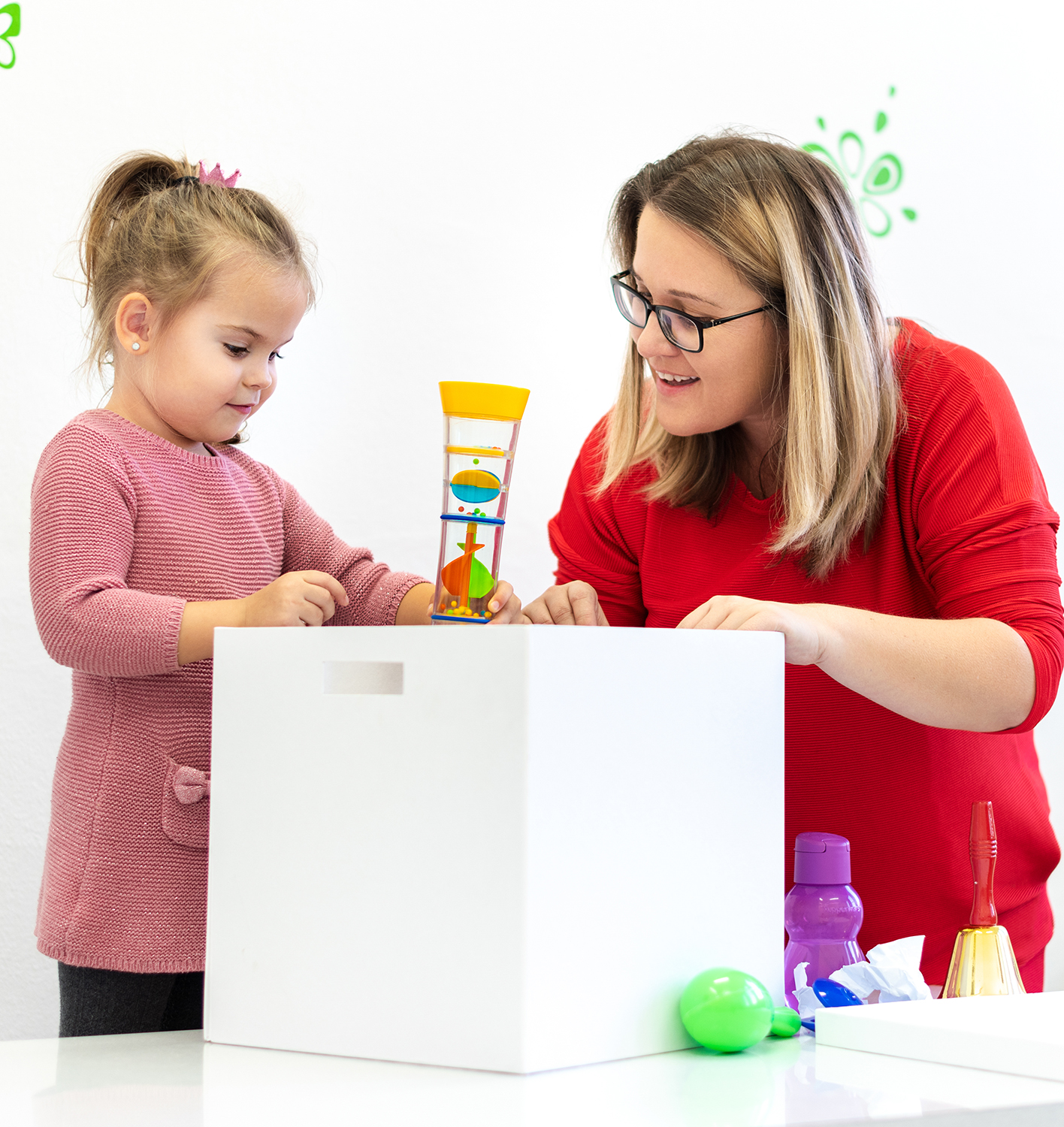 When Might a Child Benefit From Occupational Therapy?
Children and adolescents of all ages may benefit from occupational therapy if they struggle with developmental delays, congenital or physical disabilities, behavioral issues, social skills, daily activities, or other difficulties.
OTs serve children with a wide range of diagnoses, such as:
Developmental delays and disorders.
Social skills dysfunction.
Down syndrome.
Autism spectrum disorder.
Spina bifida.
Attention deficit hyperactivity disorder.
Common Reasons a Child May Need Pediatric Occupational Therapy
Your child may benefit from occupational therapy with or without the presence of a medical condition. Some signs your child may be successful with our services include:
Difficulty achieving developmental milestones such as crawling or walking
Trouble completing tasks that require fine motor skills, like using scissors, stringing beads or using utensils while eating
Gross motor skill issues related to balance, strength and coordination that impact their ability to climb stairs or walk
Signs of difficulty with sensory processing, like overreactions or underreactions to tastes, textures or smells
Expect Different Goals For Different Children
Every child is different and so are their needs. An occupational therapist focuses on the goals and needs of each individual child. A young child's occupation is to play, learn, and socialize. Some children will need physical coordination or they may require social skills to interact with other children.
An OT helps children with motor, cognitive, physical, and speech delays to develop needed skills for life.
These children may include the following:
Children on the autism spectrum
Children with Down Syndrome
Children with Cerebral Palsy
Children with developmental delays
Children recovering from a brain injury
An occupational therapist will work with you and your child to set specific goals or treatments, and then what defines success. An OT looks at your child's diagnosis and understands how your child is affected. As the therapy treatment progresses, they will evaluate your child's performance and adjust the activities to give them appropriate challenges going forward.
Children learn at their own speed, so some goals or treatments will last longer than others. As needs change, new treatments will begin in order to master a new skill.
How to Begin Your Child's Occupational Therapy
At Communication Corner and More, we begin our services with an initial evaluation to establish your child's current strengths, interests and needs. We use this assessment to develop a personalized treatment plan to help your child gain confidence in a certain set of skills.
Our treatment plans often involve breaking a skill into smaller parts. We use games and other fun activities to help children gain confidence as they develop their fine and gross motor skills.
For example, to teach your child how to take a bath, we might begin by using games to teach them how to turn on the water. We could then move into additional skills, such as adjusting the water temperature and eventually getting into the tub. By engaging children in this way, we help them feel excited to learn and utilize their new skills at home or in other settings.
Where to Find an Occupational Therapist
Most occupational therapists work in occupational therapy practices or hospitals, while others work in nursing homes, home health services, physicians' offices and schools.
School occupational therapists support non-academic and academic outcomes, including transportation, prevocational and vocational participation, self-help skills, sports, recess, behavior management, reading and writing, math and social skills.
If you're looking for Pediatric Occupational Therapy services for your child, trust the practitioners at Kids SPOT. We offer comprehensive pediatric therapies, including physical therapy, occupational therapy, in-home applied behavior analysis (ABA) and speech therapy, for over 15 years. Our team of experts serves children from birth to 21 years old who are affected by injury, congenital, developmental or physical disabilities.
Our team of pediatric specialists is committed to meeting the personal demands and health requirements of our pediatric patients and their families with individualized care plans. You can count on us for community, clinic or in-house options to assist in child development.
Our clinic has private, comfortable treatment rooms to encourage children to explore, learn, grow and develop positive self-esteem.
Benefits of OT
Occupational therapy can improve a child's ability to self-regulate their attention, engage in age-appropriate play, develop fine motor coordination and enhance daily living skills such as grooming, dressing, feeding and communicating.
Other benefits of Pediatric Occupational Therapy can include:
Improving executive functioning skills
Promoting independence in activities of daily living
Increasing overall stability and strength
Working on visual motor/visual perceptual skills
Honing gross motor skills
Improves fine motor skills
Helping with the use of assistive technology
Addressing sensory processing difficulties
Enhancing play and social skills
Providing teacher and caregiver education
Contact Kids SPOT for Pediatric Occupational Therapy Services Today
Pediatric Occupational Therapy services may have a significant impact on helping your child reach their full potential.
If you'd like to start pediatric occupational therapy for your child, please visit our location page to find a location near you — our family of companies has teams of pediatric OTs is always ready to meet with you to answer any questions you may have. You may also request an appointment or reach out online to learn more.