Benefits of ABA for Children With Autism and Anxiety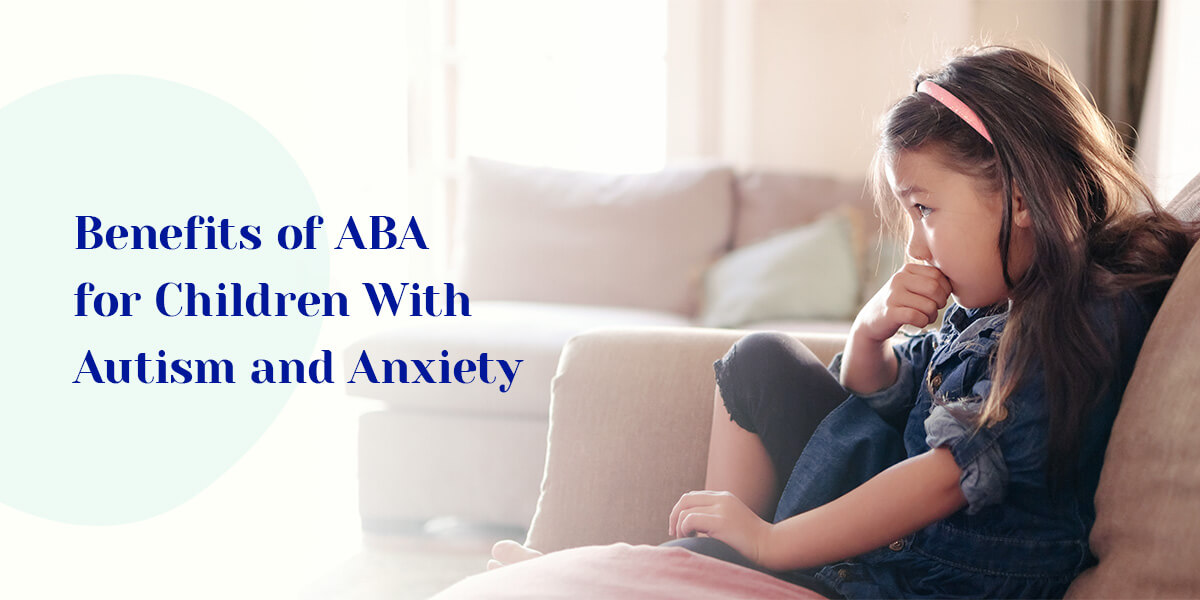 Many children with autism spectrum disorder (ASD) experience high levels of anxiety. While some of their thoughts and feelings may be due to biological factors, anxiety can also result from an inability to express wants and needs.
Treating anxiety in children with autism requires a multifaceted approach that takes a child's entire well-being into account. One valuable form of treatment for children with autism is ABA, or Applied Behavior Analysis (ABA) therapy. Keep reading to learn how this type of therapy can help children with ASD reduce anxiety.
How Do You Treat Anxiety in Children With Autism?
Children with autism are diagnosed across a spectrum, and each one of them has a different combination of symptoms. Among other things, autism can affect a child's developmental skills, lead to repetitive behaviors and cause an increased sense of anxiety.
This anxiety may occur in social situations, while other times, it's a response to external stimuli or a specific phobia. Although occasional, mild anxiety is normal for everyone, extreme anxiety can be crippling and very frustrating for people.
For older children with developed communication skills, cognitive behavioral therapy can help reduce anxiety. However, younger children with autism aren't equipped to examine their inner world and challenge anxious thoughts. ABA therapy can help younger children manage symptoms.
What Is ABA Therapy?
Applied Behavior Analysis therapy is based on the study of behaviors and how to change them using positive reinforcement. This type of therapy is used by board-certified behavior analysts (BCBAs), and it has three different parts, known as the ABCs:
Antecedent: a request, thought or action that prompts a behavior
Behavior: a response from the person in therapy
Consequence: positive reinforcement or none, depending on the response
Most children go through natural stages of development where they pick up social and communication skills from those around them. ABA therapy helps to replicate that process for children with developmental disabilities, expanding their ability to connect with others.
5 Benefits of ABA Therapy for Children With Autism
Every child can benefit from training on how to be safe, communicate and express emotions when they're young. When applied with compassion and integrity, ABA therapy helps to address behaviors from the outside in. Over time, ABA can equip children with the communication skills they need to handle their anxiety from the inside out.
Here are five ways ABA therapy can help children with anxiety:
1. Teaches Them Developmental Skills
Most children learn by observing and copying their environment during their early years. Children with autism tend to miss this developmental phase, either because of learning delays or difficulty connecting with the world outside of themselves.
Part of ABA therapy involves helping children practice these early developmental skills. Activities might include taking turns playing a game, naming animals or asking for toys. When children become more adept with social skills, they may have less anxiety later in life.
2. Provide lots of Positive Feedback
All children need encouragement, but many children with developmental disabilities experience more negative than positive feedback from others. When children participate in ABA therapy, they're paired with a therapist who understands and cares about them.
The entire ABA model is based on providing rewards for positive feedback. During sessions, therapists provide continuous positive feedback, letting children know they're doing a good job and that they're proud of their efforts. This interaction can build a child's confidence, making them feel seen and loved.
3. Develops Relational Skills
Of course, conditional rewards only go so far in developing confidence. What children really need is unconditional love, and they can find that in a compassionate, trustworthy therapist. In addition to their special training, BCBAs love the children they work with and are personally invested in their development.
Developing a relationship with a caring, trustworthy therapist is the most vital part of any therapy program for children. When this relationship is healthy, it can help children identify and pursue other healthy relationships over their lives. Having a safe community and support can also help reduce anxiety for children with autism.
4. Improves Communication
Most children naturally acquire language by listening to adults and copying sounds. However, children with autism often struggle to crack the language "code." In fact, delayed communication is one of the first signs a child may have autism.
A lot of anxiety can result when children are unable to express their wants and needs. When children can receive and express information, their lives get much easier. ABA therapy can help children with autism develop communication skills that reduce anxiety over the course of their lives.
5. Increases Focus
Another skill ABA develops in children with autism is increased focus. Board-certified behavior analysts help children practice sitting still, following a conversation and looking while they listen. These skills equip children to thrive in school and vocational settings.
Because ABA uses a play format, children learn these skills in the way most natural to them. They have fun, laugh a lot and are given the personalized attention they need to reach their goals. Being able to focus can reduce anxiety and increase future opportunities.
When Should Children With Autism Not Use ABA?
Although many children with autism can benefit from ABA, there are some instances where it might not be the best option. There are many different types of therapies that can benefit children with anxiety, and the best fit depends on your child's specific symptoms and triggers.
Because ABA uses rewards and repetition to build skills, it can be very helpful for children who struggle with communication. ABA develops learning and social skills that can benefit children with autism for the rest of their lives.
However, if a child's anxiety seems to increase with ABA, you should consider a new therapist or another option. The best therapy for autism anxiety is unique for everyone — it depends on the root of a child's anxiety, their personality and their communication skills.
Try ABA Therapy at Kids SPOT
At Kids SPOT, our Board Certified Behavior Analysts work with children ages birth to twenty-one who have learning delays or developmental challenges. Our programs integrate speech therapy, physical therapy, occupational therapy, and Applied Behavior Analysis (ABA) therapy to support our clients and help them develop strong life and social skills.
ABA Therapy can be incredibly helpful for children with autism. At Kids SPOT, we implement this kind of therapy through play so children can learn in the way most natural to them. Our treatment plans are individual to each child, helping address challenging behaviors and increase healthy behaviors with positive rewards.
Reach out to Kids SPOT today to learn more!